BankSAFE – Powered By SentryBay, Advanced AI-Powered Endpoint Data Protection!
A layered endpoint data protection strategy is essential for overcoming security gaps in banking technology, third-party fraud, and user behavior. The ever-increasing demand for such protection has made BankSAFE, from SentryBay, a trusted solution to some of the world's largest financial enterprises – from Credit Suisse to Mitsubishi Bank to the Federal Reserve.
The same enterprise security used by leading global banks to protect their employees, is now available for your online banking customers. Highly effective against combatting card-not-present (CNP) fraud, BankSAFE meets FFIEC regulations to provide layered security and browser protections with no customer configuration required.
AI-Powered Security
With cybercriminals using AI to boost ransomware, email phishing scams, keystroke logging and unauthorized screen captures, banks must also employ AI to protect against these attacks. With a light footprint, BankSAFE delivers AI-powered protection of credentials and sensitive data against data harvesting via malicious keylogging, cloning and phishing websites, ransomware and illegal screen capture.
Keystroke Data Scrambler
Updated 2021 FFIEC regulations state that banks must ensure to protect their consumers when banking online which incorporates protections against browser-based threats.
Download Solution Brief Now!
Download the Solution Brief to learn how BankSAFE shields banking customers and employees from prying eyes, meeting FFIEC compliance by offering the simplest and most effective security solution combating endpoint threats to online banking.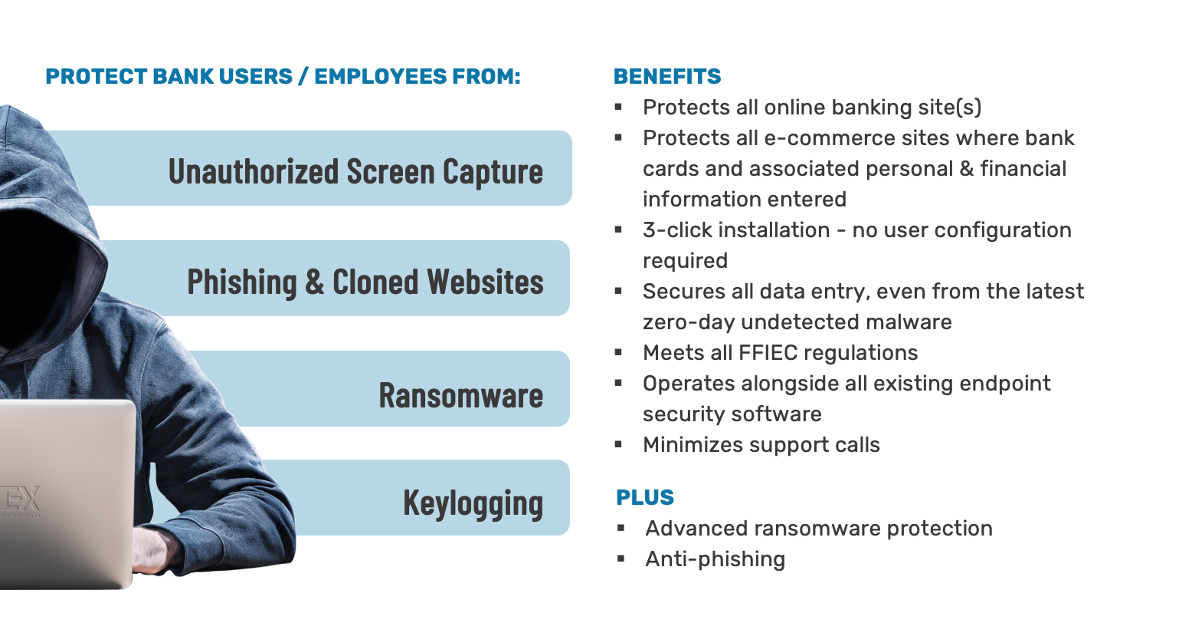 Download BankSAFE Solution Brief